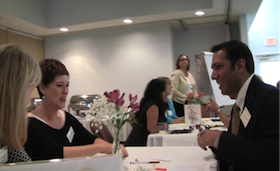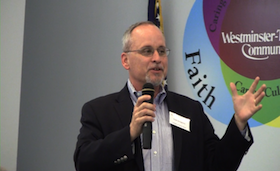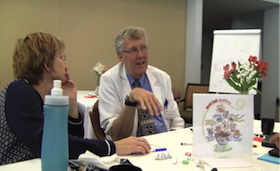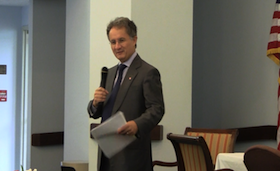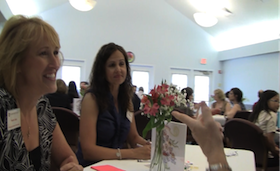 After several months of preparation, the Mini-Retreat on Aging took place in late May and to our delight, was a huge success! Our partners in aging came from 8 different colleges and schools, and many, many different departments and initiatives within those colleges, including the College of Arts and Sciences, College of Optometry, Fisher College of Business, College of Pharmacy, and more.
The Dean of the College of Medicine, Dr. Charles Lockwood, and the Dean of the College of Social Work, Dr. Tom Gregoire, kicked off the meeting. Their attendance and comments emphasize the importance and need for growing and improving research, education and the care of older adults across the OSU campus and in our community. And the Mini-Retreat on Aging is an important step for our partners in aging to address and discuss these very issues.
At the Mini-Retreat on Aging, we explored current campus-wide resources that already support and/or advance aging research, teaching and service. We also talked about what aging
could
look like at OSU in a perfect world (raining money anybody?). What about having more robust programs for caring for older patients? Why not have education programs in aging for both older adults and OSU students? How about having a campus-wide, interprofessional Center on Aging? These are just a few of the ideas that were shared at the retreat.
Finally, we focused on how to make these goals and ideas into reality by making a commitment to advance aging initiatives at OSU. Some attendees plan to call or connect with newly discovered colleagues to discuss research initiatives. Others will focus on better educating the OSU community about current OSU programs or resources that already exist and that may already advance the field of aging.
For those of you who were able to attend the Mini-Retreat on Aging, we greatly appreciated your participation, your enthusiasm, and your artful renderings of advancing the field of aging at OSU. Of course, we were so sorry that some of our friends in aging were not able to attend. Luckily, we expect to have a full report available on the
Office of Geriatrics and Gerontology website
at the end of June or early July, 2013 for those of you who attended the mini-retreat, our friends in aging who could not attend, and those of you simply interested in what we are doing. We hope you take the time to review this document and hope that you will be able to join us for future aging events at OSU!
---
Did you know that the Office of Geriatrics and Gerontology at The Ohio State University College of Medicine has been in existence for 35 years? During the past years and continuing through today, the Office has collaborated on multiple aging-related activities throughout the College, the University, and wider community with an overall mission to . . .
. . . foster through teaching, research and consultation the cost effective delivery of high quality health and social services to meet the needs of Ohio's older citizens and the demographic imperatives of our aging society.
Two of the signature programs the Office has offered for many years are:
The Graduate Interdisciplinary Specialization in Aging, which offers OSU masters, doctoral and professional students advanced educational opportunities in the field of aging where students are exposed to a broad range of settings and upon successfully completing the required course work, receive the Specialization designation on their transcript.
The OSU S.A.G.E. Series (Series in Applied Gerontology Education), which is a three-course graduate level distance learning program that provides continuing education and training in the field of aging to non-traditional as well as OSU students. All students successfully completing the program receive a Certificate of Completion in Gerontology from The Ohio State University.
In order to meet the diverse needs for aging education across disciplines, on-line distance education has been a focus of the Office for several years. Currently, these programs include:
Due to our experience with distance education, the Office has been honored to assist the College in the development of the
Faculty Development 4 Medical Educators Program (FD4ME)
, which is devoted to improving the knowledge, attitudes and skills of medical and other allied health faculty in teaching, professionalism and leadership through interactive e-learning modules, the
LP-Preceptor program
, and the new traumatic brain injury distance education program which will be launched in Fall 2013. Another exciting new initiative is beginning to take shape, too. The
Intergenerational Day Care Project
is in the development stages and is envisioned as a unique Intergenerational Day Care Program with its foundation in research, education, and training, fostering high quality of care and improved quality of life for the children and adults served. This Intergenerational Day Care will be operated as a University/Community partnership and will be viewed as a center of excellence in child and adult care, serving children, adults, and caregivers throughout Central Ohio. Learn more about our collaborations, eLearning programs, faculty in aging, and so much more on our
main website
. Of course, if you are interested in helping further aging efforts at Ohio State please e-mail Michelle Myers at michelle.myers@osumc.edu and let us know!
---
Save the date!
The
Consortium of Ohio Geriatric Academic Programs
is once again sponsoring the Annual Statewide Geriatric Medicine Conference at the beautiful Salt Fork Lodge and Park!
October 11-13, 2013 Salt Fork Lodge and Conference Center Cambridge, OH
(Register on-line at cme.toledo.edu after July 1st, 2013.)
Learn about antimicrobial resistance in long-term care, different approaches to low back pain in the older adult, dealing with the impaired driver, or about integrated models for medicare and medicaid discussions taking place in the state of Ohio. In between workshops, take a hike through the beautiful Salt Fork state park, play a game of tennis, or relax on your balcony or by one of the many lodge fireplaces to read a book for fun or simply people-watch. We hope you take this opportunity to join your Ohio colleagues in the field of aging! For additional questions, call (419) 383-4237 or e-mail ContinuingMedEd@utoledo.edu. We'll see you there!
---
Mary Beth Happ PhD, RN, FAAN
Previously a faculty member at the University of Pittsburgh School of Nursing for 12 years, Dr. Happ is now the Director of the OSU College of Nursing Center of Excellence in Critical and Complex Care (CECCC), which was launched in January 2013. Dr. Happ founded the CECCC as part of the College's new strategic plan with the support and enthusiasm of Dean Bernadette Melnyk, Vice Dean Usha Menon and multiple health care faculty and disciplines from across the OSU medical campus. The CECCC's focus is on the interplay between aging, multiple chronic diseases, and critical illness events. Faculty expertise and research areas include aging, quality and safety, symptom management, health and recovery and decision making. CECCC's ultimate goal is to increase the quality of life of older and aging adults and their families who experience critical illness or multiple chronic conditions. In addition to being the Director of the CECCC, Dr. Happ is also a Distinguished Professor of Critical Care Research in the College of Nursing. Her research interests are wide and varied and include critical care gerontology, patient care and communication during mechanical ventilation, symptom management, family bedside presence during critical illness, end-of-life care, treatment decision making in the ICU, and patient and family outcomes in acute-critical illness. Many of Dr. Happ's research interests are represented in over 100 publications including peer-reviewed journal articles, invited editorials, papers, and book chapters. She has mentored several PhD students and post-doctoral fellows in geriatric research through the John A. Hartford Foundation's Building Academic Geriatric Nursing Capacity program. In a recent student-led article published in the Heart and Lung journal titled
"Nurse and patient characteristics associated with duration of nurse talk during patient encounters in ICU,"
Dr. Happ's team explored nurse and patient characteristics (age, gender, race, etc.) in relation to the duration of communication that occurs between the nurse and the mechanically ventilated patient in the ICU setting. Their conclusions confirmed that the length of time on mechanical ventilation and the patient's level of consciousness influences the duration of nurse communication in the ICU. Dr. Happ also has several funded grants currently underway and through the CECCC is pursuing additional grant funding for research. She serves on numerous boards and expert panels and has received multiple honors and awards in nursing science, critical care nursing and geriatric nursing research.
Click here
for more information about Dr. Happ or read more about the CECCC in the Spring 2013 edition of the
"Transformations in Nursing Health"
on-line magazine.
---
According to the Corporation for National and Community Service (CNCS), more than 20 million older adults, or one out of three seniors are volunteers. In fact, the number of seniors aged 55 and older who volunteer have steadily increased over the last decade, up from 25.1% in 2002 to 31.2% in 2011. And the vast majority of these senior volunteers (72.4%) are volunteering informally by doing favors for, and helping out, their neighbors. The impact on our society is significant as older adults have provided almost 3 billion hours of service at an estimated value of $67 billion. Older adults are also helping themselves by volunteering. A growing body of research indicates that seniors that stay active through activities such as volunteering are experiencing mental and physical health benefits that include lower mortality rates, increased strength and energy, decreased rates of depression, and fewer physical limitations. So we hope you took time out of your busy schedule to thank an older senior volunteer during Older American's Month in May! For more information on volunteering, visit the
Corporation for National and Community Service website
.
---
"MHealth" (mobile health) apps for patients, health care professionals, and others help consumers manage health and wellness concerns, promote healthy living, and gain access to useful information when and where needed. These apps focus on general healthcare and fitness such as exercise and nutrition, provide medical information in the form of reference and diagnostic information, function as remote monitoring, collaboration and/or consultation, and provide health care management services such as payment support. The explosion of mHealth apps onto the health technology market may be a boon to health and wellness for our society but on the other hand, significant risk may be associated with some mHealth apps, such as when reliance on a mHealth app delays treatment or diagnosis. In response to these concerns, a representative from the Food and Drug Administration (FDA) recently testified before congress on how they plan to foster innovation in the development of mobile medical applications while assuring patient protections. The plan is for the FDA to focus on mHealth apps that are intended to be used as an accessory to a regulated medical device or to transform a mobile platform into a regulated medical device. In fact, a list of mHealth apps that have been cleared or approved by the FDA will be made available to the public on their website in the near future. For more information, review a
transcript
of this recent FDA testimony.
---