Volunteer Opportunity With Long-Term Care Residents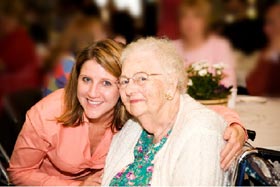 Looking for volunteer opportunities with older adults? The
Worthington Christian Village
retirement community located in Columbus, Ohio is looking for students and other individuals to participate in their newly implemented "Tool Box" Program.
"Tool boxes" are personalized by the resident's family with playing cards, photographs, games, and more. The family also supplies a list of things the resident liked doing when younger so that the volunteer can learn more about the resident. When volunteers visit, they use the tool box to facilitate rapport with the resident to ensure a pleasant and effective visit.
This is a 12-week program that begins with an orientation session, with a start date of September 28th, 2015. Individuals interested in participating can contact Lauren Feyh, Activities Director, at 614-846-6076 or via e-mail at
activities@wcv.org
for more information.