Spotlight On . . . Shannon Jarrott, Ph.D.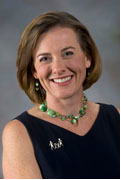 Shannon Jarrott, Ph.D., a Professor who recently joined the
OSU College of Social Work (CSW)
, comes to us from Virginia Tech where she was Associate Professor in the Department of Human Development, Director of Research for Virginia Tech Adult Day Services, and Director of Intergenerational Programs for
Neighbors Growing Together
. She received her M.S. and Ph.D. in Human Development and Family Studies with a Gerontology Minor from the Pennsylvania State University in 1999. Dr. Jarrott is the Principal Investigator of
Project TRIP, Transforming Relationships with Intergenerational Programs
, a grant funded by the
National Institute of Food and Agriculture: Children, Youth, and Families at Risk(CYFAR)
.
Dr. Jarrott's research focuses on intergenerational community building, which stems from her work in adult day services for frail elders. As OSU and the Office of Geriatrics and Gerontology (OGG) are getting ready to open the
Champion Intergenerational Enrichment and Engagement
Center
with community partners
Columbus Early Learning Centers
and
National Church Residences
, we are excited to have her expertise in intergenerational programming strategies. She will share her knowledge on shared-site programs, staff development, and incorporating student training in these unique community health and education settings. In addition to these interests, Dr. Jarrott has been involved with therapeutic dementia programming, service-learning, family caregiving, and a wide array of gerontological issues. She will be a great asset to the College of Social Work, the Office of Geriatrics and Gerontology, and the greater University community.
Shannon comes to us with her husband, a teacher, and their high school-aged children. When she's not doing research or teaching, you may find her running, knitting, appreciating the arts, or preparing a gourmet meal at home.
Please join us in welcoming Shannon to Buckeye Country!