Aging Smart Program Coming Soon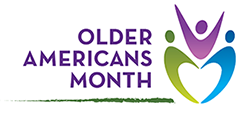 The Office of Geriatrics and Interprofessional Aging Studies and
The Ohio State University Extension
office are pleased to announce the new Topics in Gerontology
Aging Smart
program, launching in conjunction with
Older Americans Month
in May 2017. Developed by OSU Extension Educators,
Aging Smart
provides online education for consumers and educators interested in learning or teaching others about food, nutrition, and safety as we age. The available modules
include the following:
Aging and Eating
Cooking for One or Two
Personal Safety
Preventing Falls in Your Home
Universal Design: Housing Solutions for All Ages and Abilities
These modules are appropriate for older adults, family members, caregivers, educators who wish to teach these topics, or anybody interested in these topics. Modules are available for a one-time registration fee of $15 and an introductory module fee of $10/module (discounts may be available for individuals or organizations).
Don't forget to check out the other online modules offered through the
Topics in Gerontology
program for continuing education and professional development for those of you in the field of aging. We offer different levels of education to assist you in selecting modules that are most appropriate to your work in the field of aging, although you may take any of the module topics that are of interest to you.