Pets Benefit Older Adults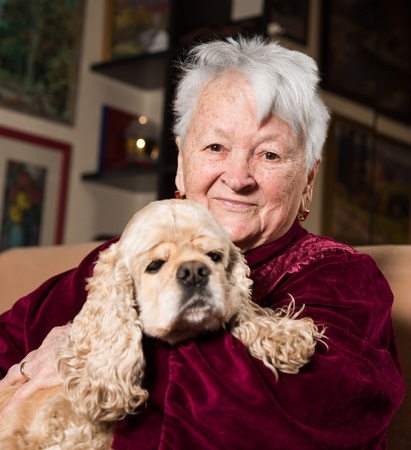 The importance of informal social support networks for older
adults' physical and emotional well-being is widely documented, and pets can often serve as 'family members' and fill this need. Some studies even link the love of animals and/or having animals with longer and healthier lifespans, and there are many benefits
for older adults to have pets:
Relief of boredom
Opportunity for caregiving
Routine schedule
Sense of purpose
Decrease in loneliness and depression
Increased happiness and self-worth
Source of companionship
Increased activity level
In fact, many older adults are very attached to their older pets. Patients have been known to leave the hospital ahead of schedule or decline hospital admission altogether because their dog is at home and needs them. Pets have also been successfully employed in therapy situations. For example an Alzheimer's patient in a nursing home who is often unaware of what's going on around her, or who is
around her, may responded positively to visits by a therapy dog.
Unfortunately pets can become a fall hazard for older adults, and can also become a burden to older adults. Here are a few things you can do to
help older adults keep their pets
:
Buy pet food or litter and unload heavier items into older adult's home
Take a dog for a walk or trip to a dog park
Assist an older adult to groom a pet, or offer to take the pet to a groomer
Provide transportation to regular and emergency vet visits
Help clean cat litter boxes or pick up dog excrement from yard
Offer to pet-sit, including if older adult is hospitalized
Donate pet food and supplies to local organizations in your area that support seniors
Help your older adult friend to find a pet
Some programs exist that help older adults acquire and keep pets:
Read more about the health benefits of pets.