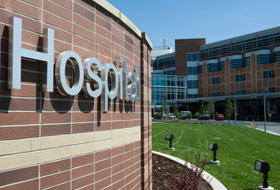 The 
U.S. News & World Report
2012 rankings of "America's Best Hospitals" have been released, and geriatric care provided by hospitals across the nation was once again reviewed.  The main goal of this annual report is "to help those who need an unusual degree of skilled inpatient care decide where to get it, especially when there's time to make a choice," which of course describes a large segment of our geriatric population.   The
U.S.News & World Report
2012 ranked The Ohio State University Wexner Medical Center and noted that OSU leads the region with 10 ranked specialties, including
geriatrics (#46)
.  In fact, only a handful of hospitals in the nation like OSU ranked in multiple specialties!   According to the report 148 out of 4,793 hospitals were evaluated, receiving a ranking score of 0-100 based on 1) patient survival, 2) patient safety, 3) care-related factors such as nursing and patient services and, 4) reputation.  Of the 148 hospitals evaluated, the following ranked in the top 3 for Geriatrics:
John's Hopkins Hospital (Baltimore, MD)
Mount Sinai Medical Center (New York, NY)
Ronald Reagon UCLA Medical Center (Los Angeles, CA)
Click here
for more information about the
U.S. News & World Report
2012 rankings.
---
Pioneer Network will hold its 12
th
annual conference, "
Building a Bridge to a New Culture of Aging,"
August 5-8, 2012 in Jacksonville, FL. This three-day conference will explore innovations and transformation of current practices in the long-term care culture change movement, facilitating dialogue among conference attendees and moving this dialogue forward. Join Pioneer Network at their pre-conference intensives, listen to inspirational plenary speakers, choose from over 50 group sessions to attend, and don't forget about joining other conference attendees on special events! For more information about the Pioneer Network and their upcoming conference,
click here
.
---
The next course in the OSU S.A.G.E. Program, "Issues and Trends in Aging" is now accepting students for autumn semester 2012! This course introduces students to a broad political and social framework and policy considerations that impact the aging population. A problem-based approach is used to address national political, social, and economic policies that directly impact the way we organize, finance, and deliver aging services. Some of the topics covered in this course include:
Should we ration health care for older people?
Should older people be protected from bad choices?
Should people have the choice to end their lives?
How does the Health Care Reform affect older people?
This course is taught on-line by instructor Diana Kubovcik, MSSA, LISW-S, Client Services Director at the Central Ohio Area Agency on Aging. Diana is a wonderful instructor and has vast knowledge and experience on the issues presented. This truly is a wonderful class! For more information about this course and to register and pay, go to the OSU S.A.G.E. Program
website
.
---
Dr. Abdel Mohammad, DDS, MS, MPH, FACD, FAAOM
is a Professor of Geriatric Dentistry and Oral Medicine, and Director of the Geriatric Dentistry Program at The Ohio State University College of Dentistry. He earned a Master of Science from the University of California, San Francisco, Master of Public Health from The University of Texas, Houston, and an Academic Fellowship in Oral Medicine from the
American Academy of Oral Medicine
. He acquired formal training in Geriatric Dentistry at the University of Texas, San Antonio, and was a mid-career fellow in geriatric dentistry at the University of California, Los Angeles. Dr. Mohammad has lectured extensively both nationally and internationally. Dr. Mohammad received The Ohio State University faculty award for excellence in community-based scholarship. He is the author of the "Geriatric Dentistry" textbook, 6th edition, for dental students and oral health professionals. In addition, he has published over 100 papers, monographs and books, and served as co-editor of the
American Academy of Oral Medicine
sponsored monograph "Clinician's Guide to Oral Health in the Geriatric Patient," and the chair of the Academic Fellowship committee of the
American Academy of Oral Medicine
. In 2006, the Geriatric Dentistry Program at The Ohio State University received the
American Dental Association (ADA)
Geriatric Oral Health Care Award. In addition to Dr. Mohammad's current position at The Ohio State University College of Dentistry, he also serves as a consultant and educator to several universities around the world on developing Geriatric Dental programs, including Case Western Reserve University (Cleveland, USA), University of Puerto Rico School of Dentistry ( San Juan, PR), National University of Singapore (Singapore), Poznan University of Medical Sciences (Poznan, Poland) and the Suez Canal University (Ismailia, Egypt). For more information about Dr. Mohammad, or to learn more about the Geriatric Dentistry Program at The Ohio State University,
click here
.
---
Geriatric dentistry is the discipline that deals with special knowledge, attitudes and technical skills required in providing oral health care to older adults. Oral health is very important for older adults since they are more at risk for systemic conditions, which are diseases that affect the whole body such as Diabetes. This predisposes older adults to develop oral diseases of the teeth, gums, and mouth that can lead to difficulty eating and malnutrition, difficulty speaking, increased risk for getting infectious diseases (like a cold) and reduced quality of life. For example, a common problem among many older adults is dry mouth (Xerostomia) as many older adults take medications that can cause this issue. Dry mouth can interfere with a person's ability to speak, taste, chew and swallow. Dry mouth may also cause tooth decay and gum disease as dental plaque tends to accumulate faster when saliva production is decreased. Most importantly, recent research now links periodontal disease and certain systemic diseases, such as cardiovascular disease and osteoporosis, in the elderly. So you can certainly see why oral health care can become a very serious issue for our older population if left untreated. For more information about the field of Geriatric Dentistry, check out the award-winning
Geriatric Dental Program
at The Ohio State University.
---
The National Falls Prevention Awareness Day is on the first day of autumn, which this year is Saturday, September 22, 2012. As you may already know, falls is a serious issue for many of our older adults. In fact more than one-third of adults 65 and older fall each year, with 1 in 10 falls resulting in a serious injury. The psychological impact of falling on the older adult is also daunting, as 1 fall may lead to a fear of falling and start a downward spiral of loss of function and mobility and a greater risk of falls. And let's not forget about the significant cost of falls in hospitals, nursing homes, other long term care, and for the older adult and their families. Unfortunately, the rate of fall-related deaths among older adults has risen significantly over the past decade, too. Help promote and increase public awareness of how to prevent and reduce falls in your community! For more information, go to the National Council On Aging (NCOA)
website
for fact sheets, information about a falls prevention photo and story contest, a list of resources, and much more.
---
Join us for the 23rd Annual Ohio State Geriatric Medicine Conference 2012 "Improving the Health of Our Elders: Topics in Geriatric Medicine," that will be held October 12th through October 14th at the
Salt Fork Resort and Conference Center
in Cambridge, Ohio. Learn more about geriatric pharmacotherapy, neuro-psychiatric disorders, elder care, rheumatologic dilemmas, and nutritional, metabolic and GI issues in elders through a variety of symposia lectures, workshops and discussion sessions. Last but not least, meet a variety of experts in the field of aging who work with the older population in the state of Ohio.
Click here
to find out more about the conference and how you can register. Please note that registration is due at your earliest convenience, but no later than September 28th, 2012, as enrollment is limited by the capacity of the conference facility.
---
RFA-NR-13-001: Addressing Needs of Informal Caregivers of Individuals with Alzheimer's Disease in the Context of Sociodemographic Factors (R01)
The National Institute of Nursing Research seeks researchers interested in addressing the needs of informal caregivers of individuals with Alzheimer's Disease and other dementias in the context of different sociodemographic factors. Research has demonstrated that sociodemographic factors (such as geography, socioeconomic status, education, culture, race, ethnicity, gender, and age) play a role in informal caregivers' experiences in providing care for their loved one as well as in managing their own health and well-being. The purpose of this funding opportunity announcement is to 1) develop interventions that address the needs of these caregivers in the context of different sociodemographic factors, and 2) inform the search for such interventions by better understanding or describing the unique experiences, perceptions, knowledge, and caregiver outcomes based on different sociodemographic factors. For more information,
click here
and/or contact Lois A. Tully, PhD at (301) 594-5968 or via e-mail at
tullyla@mail.nih.gov
directly if you would like to discuss this RFA in greater detail. Please note that applications are due on or before September 14, 2012.
---