Student Inventions Benefit Older Adults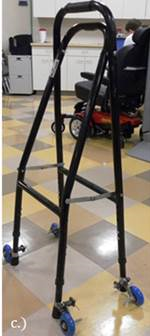 All undergraduate seniors in the OSU Department of Biomedical Engineering are required to take a
Senior Design Course
where they work on projects dealing with rehabilitation issues, new technology developments, and assistive devices. A large number of these projects directly address the needs of the aging population, but are able to help all age groups. They are led by BME faculty member Dr. Mark Ruegsegger, who creates collaborations between student teams and others across campus or in the community who have ideas or problems that could be addressed through their design work.
As an example, students improved the hemi-walker, a side-style walker used by older adults with one-sided weakness. Current models change walking patterns and cause stability problems. Students added spring-loaded wheels with plastic guards so the hemi-walker would glide more easily when walking. When stationary, the guards drop to prevent the wheels from moving. The student design for the updated hemi-walker project was a success, providing a comfortable, stable and safer walking experience for older adults.

If you have an idea for a project, let us know or contact Dr. Ruegsegger directly at ruegsegger.1@osu.edu.